Blooms Galore 6 oz Perfumed Dusting Powder with Puff & Glass Stand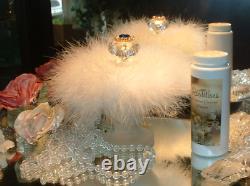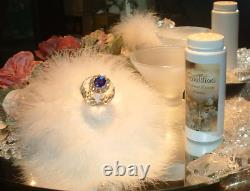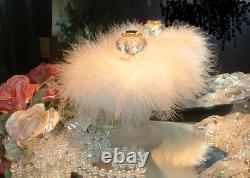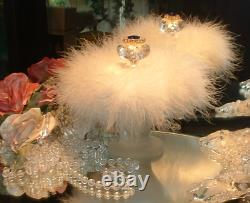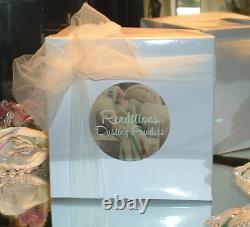 Blooms Galore Perfumed Dusting Powder. 6 oz / 180g Perfumed Dusting Powder with Puff and Glass Stand. Blooms Galore is a strong, dreamy fragrant dusting powder. The top notes are a generous mix of floral scents of mimosa, rose, orange blossom, cassia, hawthorn, hyacinth, bergamot, nasturcja, geranium and green notes. The heart continues this garden-fresh flowery theme with lily, violet, orris root, jasmine, ylang-ylang, lily-of-the-valley, lime blossom and rose.
The base branches off to a woody combination of sandalwood, amber, oakmoss, cedar and musk with the accompanying floral heliotrope and iris. This sensual fragrant powder is a silky, sultry, scented flower garden for your skin. The marabou trimmed faux fur puff is features with a crystal handle accented with rhinestones. The four inch high glass stand has a frosted finish. Shake powder onto the puff, apply, then return the puff to the glass stand for display.
Beautiful piece for your vanity to enjoy for many years to come. Please note that the label on our canister will have different artwork from the photo. We recently updated our labelling.

---